In the past 12 months, I have lived in 5 different countries: Zanzibar, United Arab Emirates, Belarus, Turkey and the Netherlands. In each country, I spent at least 1 month. So technically, I have been on long holidays in each one. I realized what I've been doing (which comes as a natural habit to me) is part of the 'travel, explore and live like a local' trend. Which is all about being a traveler (or explorer) and not just a tourist. I was able to get to know each city's personality as well as its people and culture. All while continuing my regular balanced routine of remote work and life.
What does it mean to stop being a tourist?
In my opinion, when you reach the 1-month stay threshold in a new city, that qualifies you to say that you've stopped being a tourist and started living like a local.
When you're able to make a distinction between being a traveler and not a tourist. Moreover, when you start making useful observations of a country's lifestyle. Or learning about the intricate dos-and-dont's to help rather than damage a country. You've basically reached a point of knowing an extra thing or two about the place that regular tourists probably didn't stop to think twice about.
How to stop being a tourist?
It's simply when you start to sleep, eat, engage in social activities and work in your new city like a local does. Yes, work and travel can overlap. Especially in today's digital age when you have a job you love that allows you to get tasks done online.
Suffice it to say, I believe you can get more out of your trip if you learn to explore a new city and truly know its ins-and-outs like a local. It's getting a little too boring following the same itineraries to the same 'hot-spots'. Which by the way are almost always not the best representation of a place.
Think of your own hometown or a place you know very well. If a friend was visiting, where would you take them and what would you want to show them?
---
Now, let's get into the good stuff. In the next few paragraphs, I'll break down the factors you need to take into consideration for your next trip. It's for those of you who are planing to elevate the depth of your experience and travel in a non-touristy way.
Factor 1: Duration of your stay
The next time you plan a getaway, the first thing to think about is the amount of time you want to spend there.
How long you spend in a new city decides how well you get to know it.
If it's less than a month then keep your tourist hat on and get to planing your daily itinerary. However, if you're thinking of staying longer, then your mindset will be much more relaxed. All you need to figure out is your flight ticket and maybe the first week of accommodation. Or you could consider to spend your entire period of stay in an Airbnb, if you trust the reviews.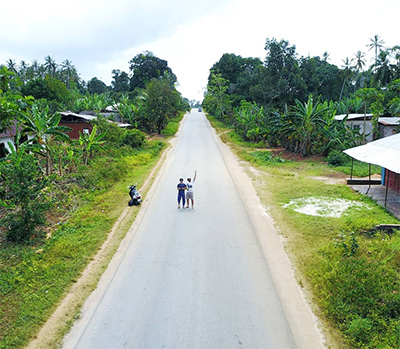 Factor 2: Purpose of your stay
Although this is the second factor, I'd say it's the most important one you need to figure out. Ask yourself: what do I want to achieve from this trip? What do I want to remember most? Which aspect of the destination do I want to explore deepest? What type of memories do I want to takeaway with me?
The purpose of your stay decides the quality of your trip. It affects the type of connections you make and the memories you'll take away.
Say for example you want to learn kite surfing besides your other to-dos (sightseeing, relaxing, and working). Naturally, you'll look for the spots where kite surfing clubs are based. I definitely recommend you find groups that are led by local experts. You'd be killing 2 birds with 1 stone! Be smart when it comes to comparing your choices. Remember, there's always someone who can give you the same service for less.
Once you start, I assure you there is a high chance that you'll meet people that share your common interest. You'll get involved in their social circle and regular meetups. Before you know it, you'll literally be 'one of the locals'. You'll learn about way more than just kite surfing. You'll get close-up insights into little cultural hacks, language phrases to use socially, the list can go on…
Factor 3: The other details of your stay
Once you've decided how long you want to stay and how well you want to get to know your destination, it's time to plan the other stuff. Here are some quick tips from me when it comes to planing the rest.
I suggest you leave the rest of your itinerary empty until you arrive at your destination. Get inspired on-site as you go and explore like a local!
Make sure you do not stay in an area that has high tourist density. Otherwise, you're bound to feel like a tourist every single day. You'll be one of the tourists, not one of the locals.
Try to keep it equal to your average monthly spending. That is, of course, as long as the cost of living index of the country allows this.
---
How I apply these factors to my trips?
In my case, I am passionate about social entrepreneurship (not kite surfing). So when I travel, my purpose is to network with like-minded people and local entrepreneurs. Over the past few months, I've made some great connections. An example: there's a great Zanzibari guy I'm currently still in touch with. We're building a local hand-made soap factory together!
In regards to where I stay, I usually choose to live in an apartment nearby a co-working space. Before I land on a decision though, I test different co-working spaces out. I do this in my first week to try get a feel of which place I belong to. Then, I begin attending events to meet new people. The group is typically a mix of local entrepreneurs as well as traveling nomads like myself. I leave the rest to destiny!
More often than not, these connections lead me on exciting paths. I end up getting invited to weddings (I once attended one where the PM of that country showed up as a VIP). I also get invited to accompany friends back to their home villages. I doubt any regular tourist has been to or gets a glimpse of the rural lifestyle the way I do. I get to meet and interact with cute families of my local acquaintances. And most importantly, I build friendships that last me a lifetime.
Closing thoughts: Why stop being a tourist?
I believe having a short trip makes you less focused on meeting people. You're more focused on checking activities off your bucket list, all of which are based on reviews you read or saw on social media. As a result, the lack of attention paid on immersing yourself into culture or building genuine interactions with anyone means you'll leave the place in just a week or two with memories of a bunch of touristic attractions you visited or famous foods you tried… and that's it. Wouldn't you rather live in a place that feels like a neighborhood, a temporary home?


It's also worth to zoom into the environmental point of view. After all, we are living in an age of environmental crisis. It's a basic fact that taking more short holidays means more flights to catch in the span of a year. Let's breakdown the math. Assuming you have a 9 to 5 job with 25 days annual leave credit, that'll be about 4 weeks in 4 different places. That's 5-6 flights roughly. Compared to probably 2-3 flights if you plan just one long holiday.
Furthermore, on short holidays you might choose non-green hotels that have a large carbon footprint. Especially if your purpose is a luxury, relaxing trip. That comes from the amount of chemicals they use every single day to clean, the wasted food and lots of unnecessary services. A great alternative is Airbnb. To live like a local (in cosy homes offered by the locals) for a short period of time. The longer your stay is by the way, the greater discount you can get.
All in all, I'd say if you really want to connect with the people and place you're going to, that takes TIME 🙂