with Stefano Fascianella
Destination: Greece
Dates: Upon Request
Duration: 5 Days, 4 Nights
Challenge level: Moderate
Price: € 570
Why join?
If you're looking for a perfect long weekender, then look no further as this journey to explore the energetic universe of Greece's largest island could be it! Mythology has it that it was in a cave of Crete where the goddess Rhea hid her newborn Zeus. The island is also known for its healing powers and for enchanting everyone who visits.
As Nikos Kazantzakis, celebrated Cretan author, likes to say, "The mystery of Crete runs deep. Anyone who sets foot here senses a force coursing warmly and beneficently through their veins, sensing their soul beginning to grow."
Ever dreamed of a travel & personal development adventure all wrapped up in one package? Stefano promises to guide you out of your comfort zone if you seize your chance now to discover your 'why' and clarify things for your life on open-hearted Crete. And leave the safety of your travels to us.
Highlights
Revel in the combination of the medieval charm of Old Chania, adrenaline thrills at the steep Gorge of Samaria and the seductive glory of the island's numerous beaches. Learn delicious, secret Cretan recipes in a cooking class with a local family to pepper on a special gastronomic element to your trip. 
Itinerary
Night 1
Touch-down in Charismatic Crete
Welcome to the beautiful Crete island, an absolute feast for the senses and home to vibrant beaches, friendly people and exquisite Greek cuisine! The meeting point where you will be greeted by Stefano and your fellow travelers by 9 pm is the hostel. After checking in and a briefing session, get ready to head out for a stroll along the lively Venetian Harbour. You then have the option of going back to the hostel or joining Stefano on his nightlife venture at Daliani Street.
Day 2
Bliss on the Exotic Elafonisi
Join Stefano in his early morning routine for a fresh kickstarter to your day, if you wish. By 8 am, you'll make your way to your first stop: the unaltered, traditionally old local agora where you can have your pick at buying some of the best local produce for the day ahead. By 10 am, we'll road-trip down to the hidden gem Elafonisi, known for its sparkling, clear turquoise waters and pink-cream sands. You'll immerse yourself in a highly-spirited, ecstatic dance session and then have the time to either go snorkeling or paddling (at own cost) or just relaxing and soaking up some sun. We leave the beach and venture off-road to explore the Agia Sofia caves before making it back to the hostel by 6.30 pm. Shortly after resting, it's on to a local stop to enjoy some joyful, live Greek music. After 10 pm, join Stefano in nightlife taverns at Daliani Street, if you like.
Workshop of the day: How to be fully present
Day 3
The Gaping Gorge of Samaria
This morning as well, you have the choice to join Stefano in an early morning meditation session before getting into the van by 7 am so we can drive out to our excursion for the day at the longest and most beautiful gorge in Europe. Guiding us will be the knowledgeable Kostas as we trod the magnificent 16 km trek enriched with dazzling mountainscapes, enriching flora, abandoned settlements and soaring golden eagles (if you're lucky, you may even spot the local mountain goats kri-kri for just a second but they are usually very shy). Once we're back to town in the evening, we'll move to our new accommodation and you can rest all night or join Stefano for cocktails or drinks at Daliani Street.
Workshop of the day: How to reconnect with your higher self
Day 4
Beach Adventures, then Cooking with a Cretan
Following the usual morning routine with Stefano, today will see you on an adventure to more exquisite beaches of the apple of our eyes, Crete. First up is the heavenly Balos beach that will capture your heart with its shallow, sweeping sandbanks and unique topography. Next up is the lesser-known (but equally beautiful) Gramvoussa beach that features a fantastic blend of green and blue hues of crystal-clear water. We leave by 4 pm. Foodies rejoice as we dive into a cooking class with a local Cretan family who will help us rustle up our very own tasty, traditional-style dinner.
Workshop of the day: How to come out of your comfort zone
Day 5
Your Crete Journey, Complete
Wake up to your last day in Chania and say goodbye in the best way we know of—biking all around the town's cobblestone alleys, waving to the smiling locals and collecting snippets and mental images of your favourite pieces of Chania to take home with you. Our last destination will be the picture-perfect lighthouse at the port before we gather and sit down for one last group session to reflect. You're then free to wander around on your own some more or catch the local bus to the airport.
Workshop of the day: How to apply what you've learnt in your daily life
Inclusions
2 nights in hostel (dormitory type), 2 nights in an apartment. Will be on a shared basis
Local transportation for activities (private van, bicycle rentals)
Workshops on mindfulness and meditation, old market Chania visit, Samaria Gorge guided hike, visits to 3 beaches and 1 cave, ecstatic dance, biking, cooking class with dinner for one night
24/7 in-country support by our experienced Nomad and a local partner
Daily breakfast, lunch and dinner
Accommodation extension or upgrades, add-on activities and any other personal spending outside the proposed package
Important Information
If you're arriving at CHQ airport, there's an hourly local bus you can catch to Chania's centre and then a 10 min walk to the hostel (meeting point)
For travelers who don't prefer dorm rooms at the hostel, you can pay an extra €60 for a private room for 2
Daily meals and beverages are excluded in this journey. Cretan cuisine has so much to offer, so we recommend you become an adventurous foodie and make the best of your trip. For personal spendings, expect the average price for breakfast to be €3-8, lunch and dinner €7.5-15, cocktails at night €5-8. We also recommend you pack some food, which you can buy fresh from the local agora, for the hikes and visits to beaches
A gentle reminder while visiting the beaches, cave and gorge: as responsible travelers, we ask that you tread carefully so as not to disrupt the wildlife and rich flora
Please note that itinerary details are subject to change due to unfavourable weather, local developments or other circumstances beyond our control. Our Nomad will ensure to minimize the effects of these changes on your experience, and they will keep you promptly updated
Kindly ensure you consult your local government's advice regarding domestic travel before making the decision to book this journey
With has received the

WTTC's Safe Travels stamp

, which provides travelers with assurance that

we are implementing globally standardised health and hygiene protocols

to ensure

safer travels

. We're also committed to and actively incorporating the

ATTA's health and safety practices

.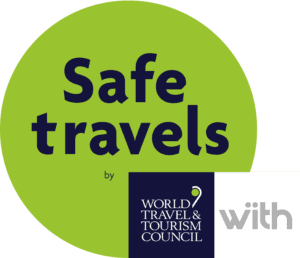 How to join?

Come & say "hi"
The first step is to schedule a call with our nomad. They are happy to have a chat with you to see if there's a magic spark. They can also answer any questions you may have about the journey.
Reserve your spot
If all goes well, you'll be invited to pay a deposit to reserve your seat for the journey. Further instructions and support will be provided to you by email.

Time to travel
You'll have a virtual group orientation with our nomad before your travel start date to ensure you're packed and prepared well. The only thing left to do will be to have the journey of a lifetime!
Your host
Stefano has been calling himself a "free spirit" ever since he left behind his old 9 to 5 lifestyle in his home country, Belgium, to get out of his comfort zone and pursue a life of exploration and adventure. He loves traveling as it is an experience that promises emotional, spiritual and social growth. He has been living as a nomad who roams the world for 5 years now.
During this journey he has created for you, he hopes to share deep lessons and insightful tips on mindfulness and meditation from his past experiences by conducting daily workshops integrated into the itinerary. Also, Stefano loves to carry along his camera wherever he goes, so be sure that he will offer to take some pretty great professional photographs for your personal use.