100% customizable journey!
Destination: France
Duration: 9 Days, 8 Nights
Challenge level: High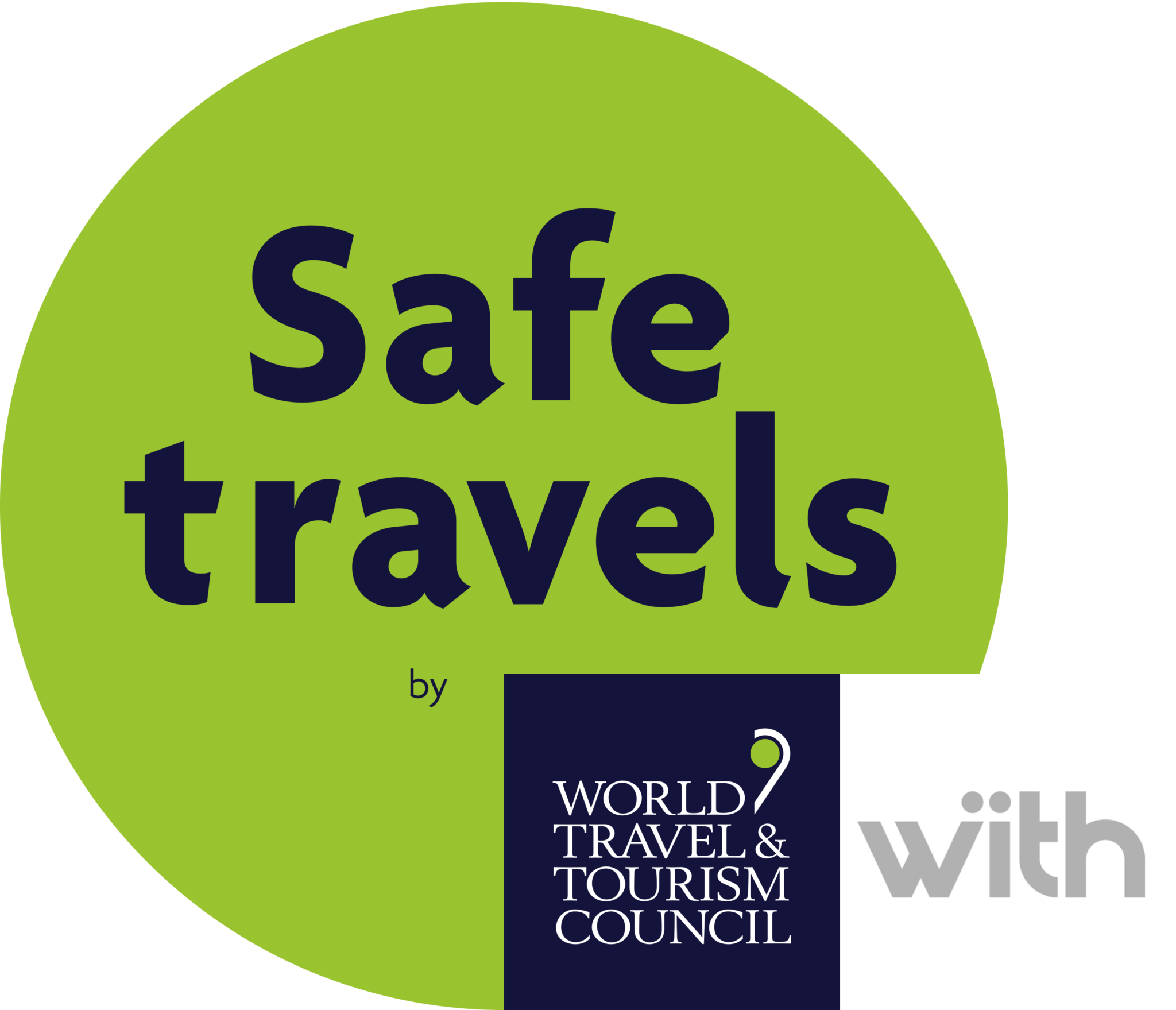 Journey Highlights
Fall in love with the Alps and feel yourself become a tiny part of them as you ascend your way to the top by bike
Accompanied and guided by a passionate cyclist with over 5 years of experience and who uniquely designed this route
Relax and enjoy a bikepacking trip perfectly-planned right to the tiniest detail
Journey Details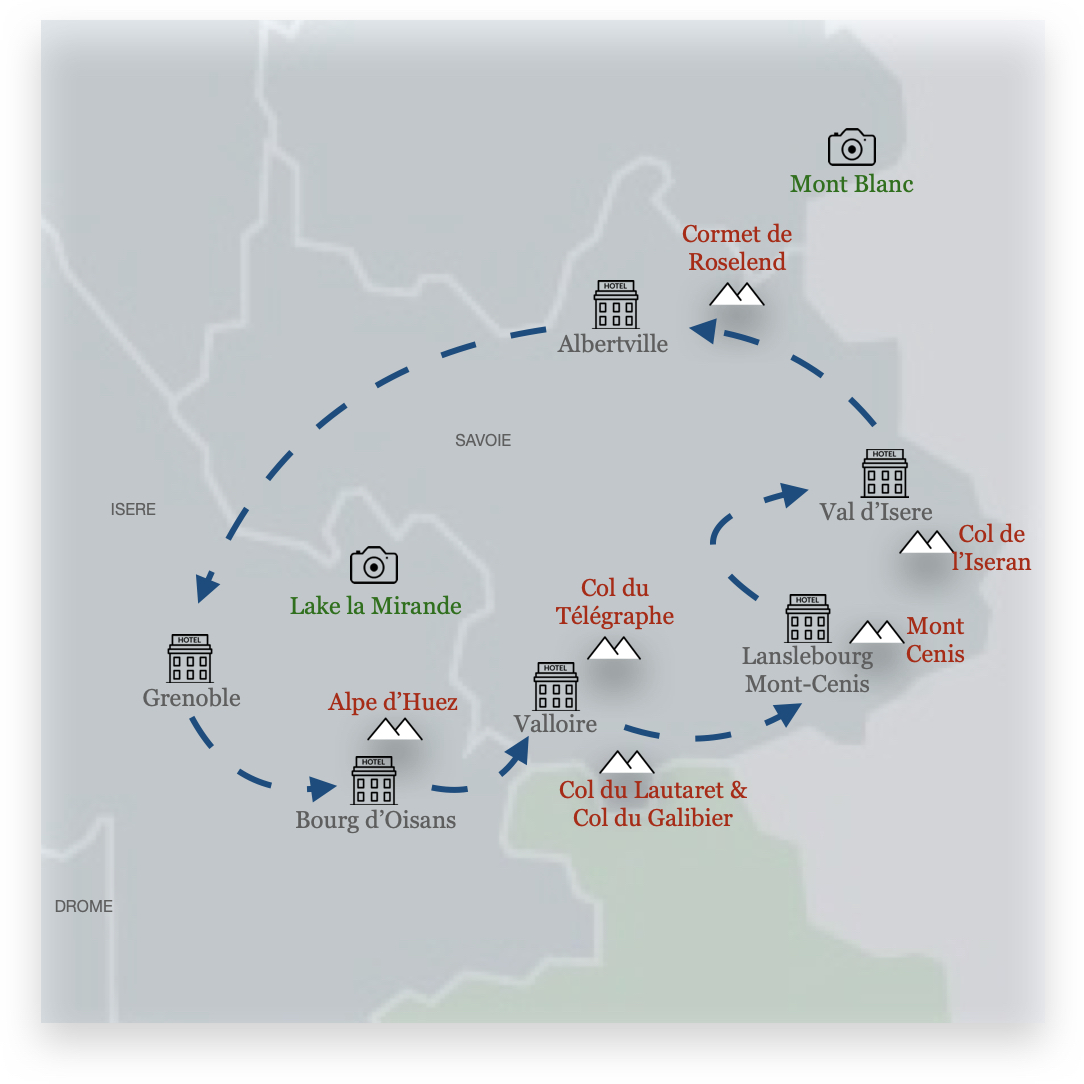 A quick overview
Nine day biking trip
6 cycling days, 1 rest day, 2 travel days
Your start and end point: Grenoble
Mileage per day: 75 km
Altitude per day: 1250 hm
Hours of cycling per day: 4-5 hrs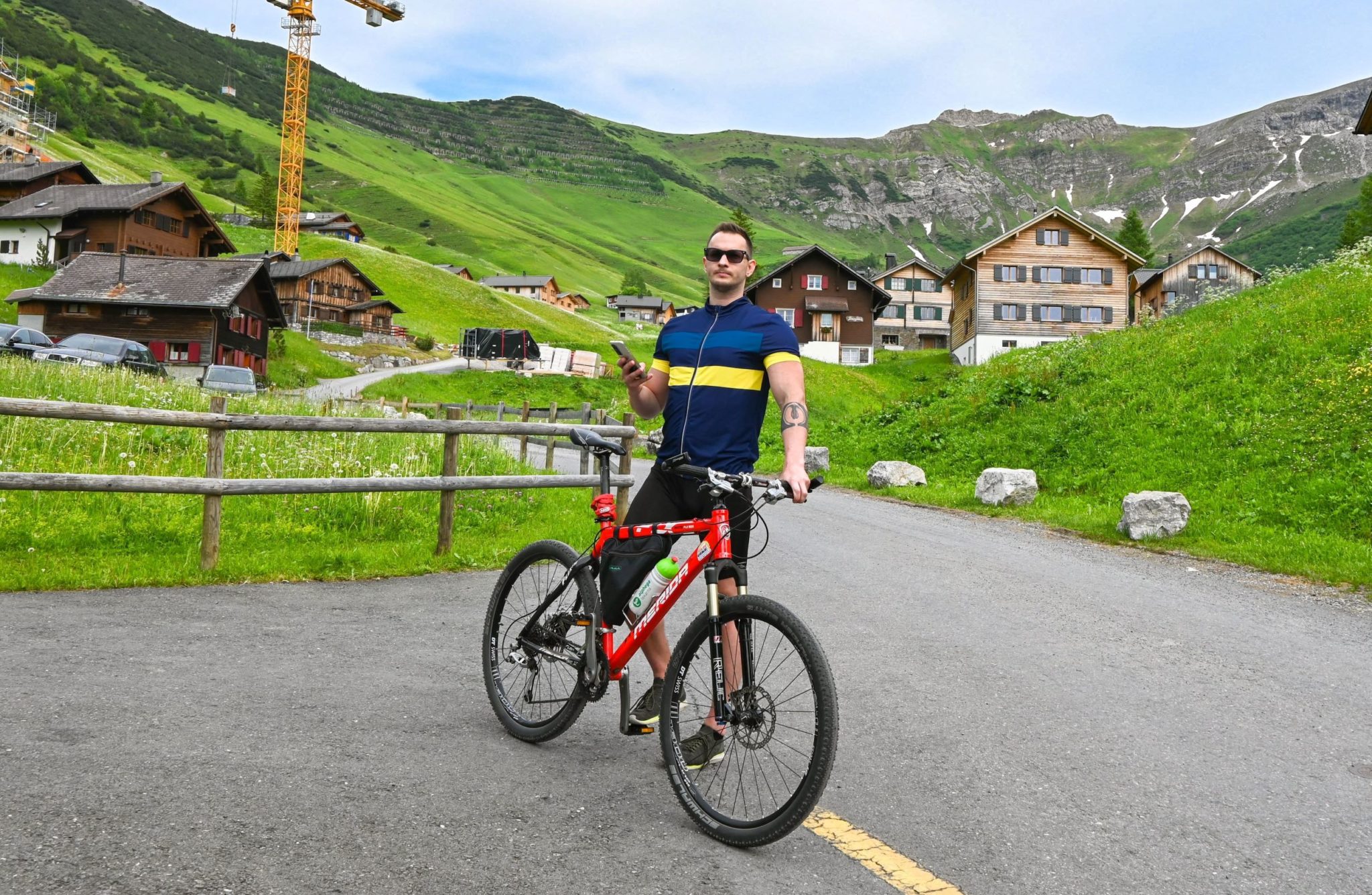 About the cycling routes
The French Alps
From the moment we cycle out of Grenoble, the slopes begin. We'll cycle over famous Alpine cols, including Alpe d'Huez, Galibier and Col de l'Iseran. The mountain scenery is beautiful and different every time. We will cycle along several mountain lakes, through barren plains high above the sea level. I promise you that your eyes will rejoice. Every day there is a tough climb, but we can take regular breaks and the auxiliary car can support those who may struggle. The asphalt in France is very good, which is of course perfect for cyclists. In addition, the motorists also take cyclists into account, which means that they always pass calmly and giving you enough space.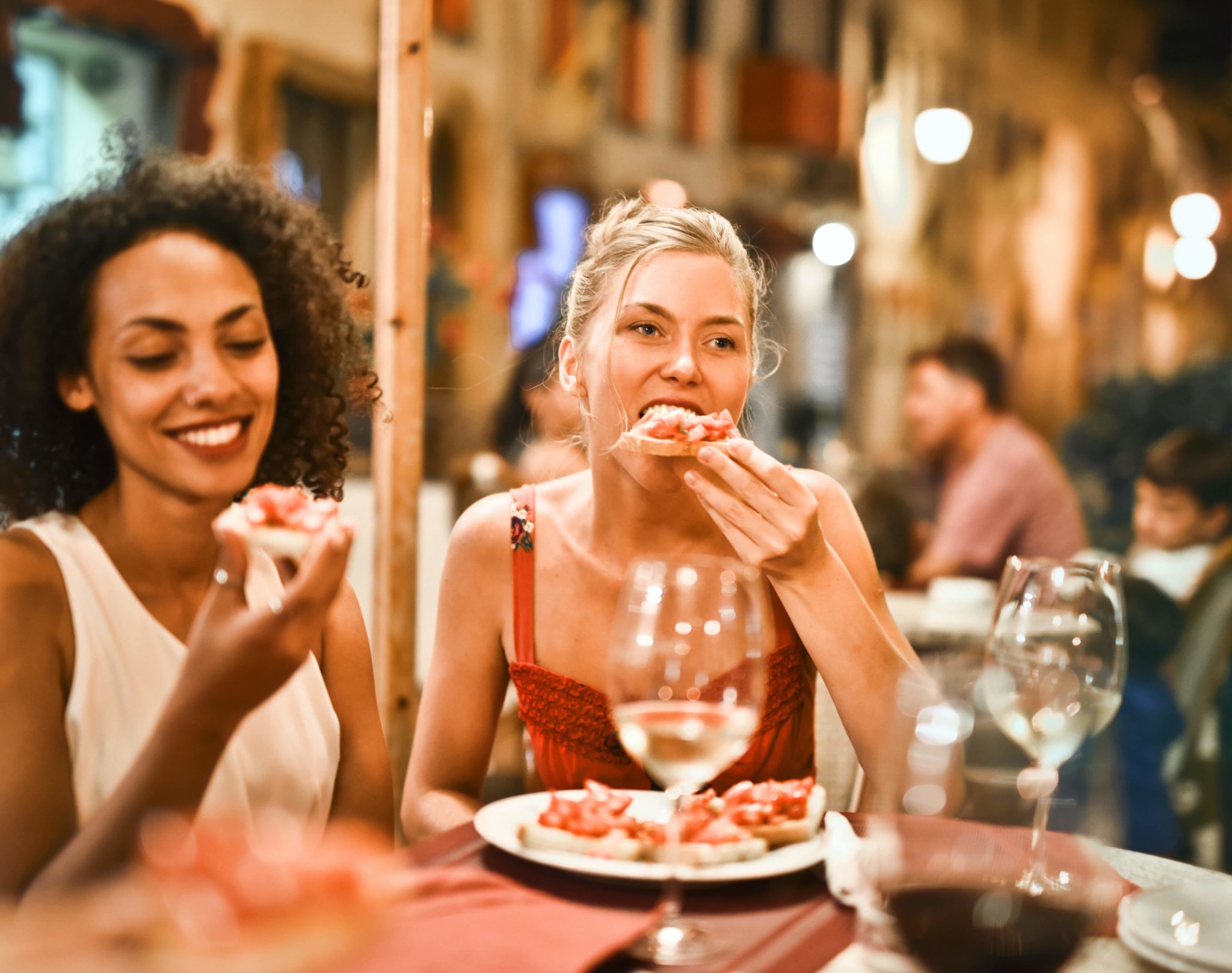 About the food
The best of French cuisine
France means a good glass of wine and late dining. We will do the former, but we will try to skip the latter (getting ample rest is of primary importance to keep our biking levels optimal). The dinners are good and there is quite a lot of choice both for meat lovers and vegetarians. Breakfast is always ample: we have enough 'fromage blanc' (cottage cheese) for our source of protein, and also the typical French croissants and pain-au-chocolat. We'll get through these mountains with plenty of delicious fuel in our tummies.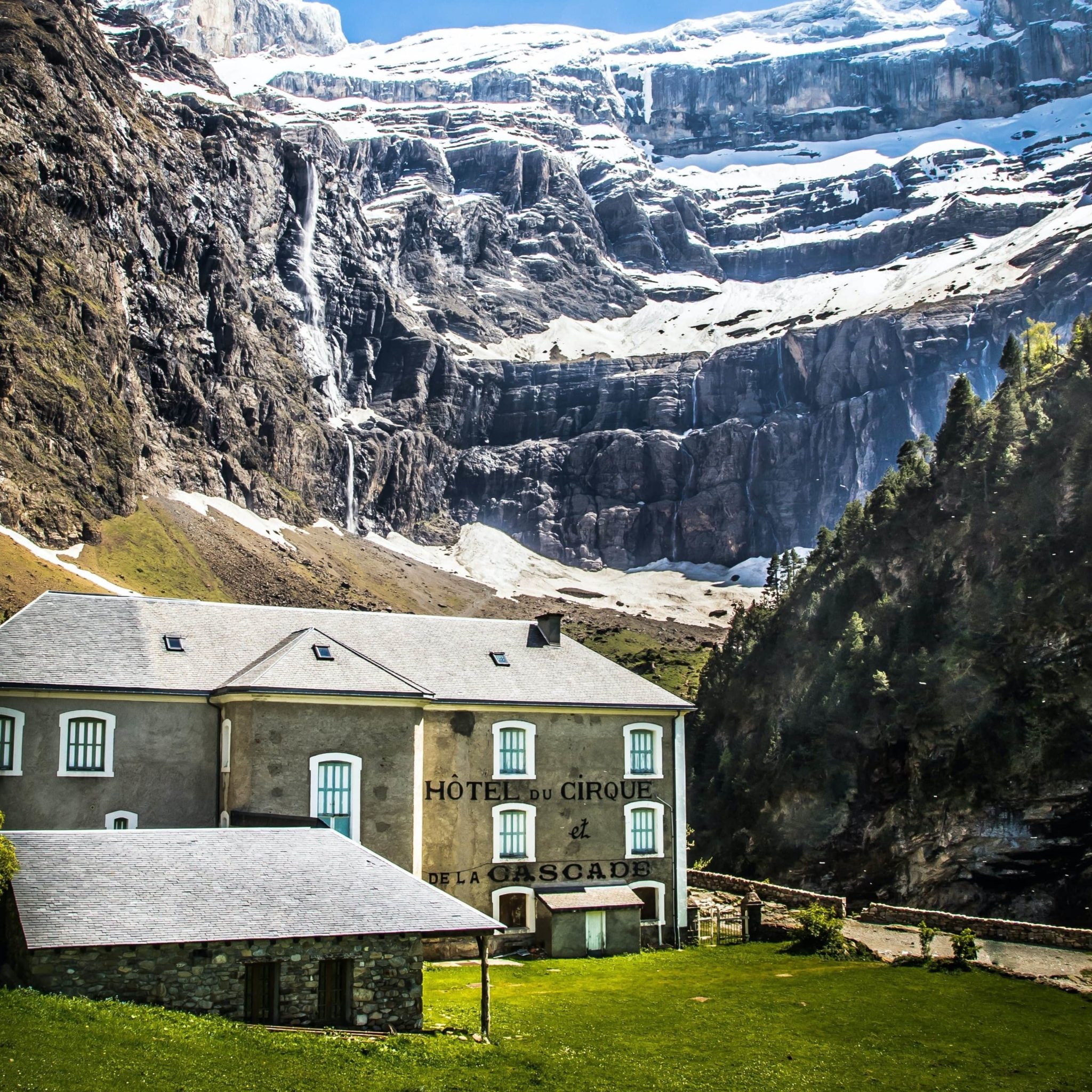 About your rest
With your comfort in mind
We will be staying in hotels and B&Bs, depending on the location and availability. The hotels are always equipped with separate, luxurious beds for optimal sleeping comfort. In addition, the hotels are located in quiet areas, so you can enjoy your night's sleep in wonderful silence, not to mention the amazing view in the morning! Sometimes, you can enjoy extra facilities such as a swimming pool or sauna.
Wondering if this Journey is right for you?
Cycle in a small group, between 50-90 kilometers per day, all under my guidance. I make sure you eat and drink enough, dose your energy well and most importantly: always arrive safely at your destination. You will sleep in carefully selected hotels where sleeping comfort is paramount. In addition, much attention is paid to eating and drinking, both on the bike and during regular meals. It's never a competition, but it's all about enjoyment and relaxation. Scroll down for more details!
Journey Inclusions
8 nights in beautiful hotels and b&bs
Half-board + sport drinks + sport bars
Guidance on bicycle, GPX route files, auxiliary car, technical help
24/7 in-country support by our nomad plus remote support by our team
Snacks and other meals, travel insurance, bike insurance, Covid-19 PCR test, souvenirs, etc.
Transportation from/to Grenoble by train ±€200-250, bike rental, bicycle check in-advance (±€50 to 100)
Important Information
Please note that itinerary details are subject to change due to unfavourable weather, local developments or other circumstances beyond our control. Our Nomad will ensure to minimize the effects of these changes on your experience, and they will keep you promptly updated.
An important reminder while visiting all natural sites: as responsible travelers, we ask that you tread carefully so as not to disrupt the wildlife, rich flora and fauna.
With has received the

WTTC's Safe Travels stamp

, which provides travelers with assurance that

we are implementing globally standardised health and hygiene protocols

to ensure

safer travels

during post-Covid 19 era. We're also committed to and actively incorporating the

ATTA's health and safety practices

.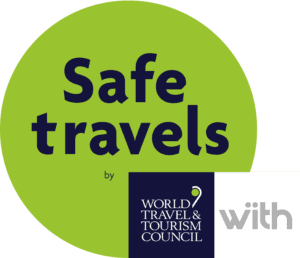 Match with a nomad
Tell us your preferences. We'll match you with the best fit nomad and connect you to have a free call with them.

Get your FREE travel plan
You'll receive a free travel plan and quotation, customized to your preferences and requests.
Time to pay & travel
Pay to confirm your booking. Our nomad will arrange everything for you and help you get ready for your journey.
Journey Designer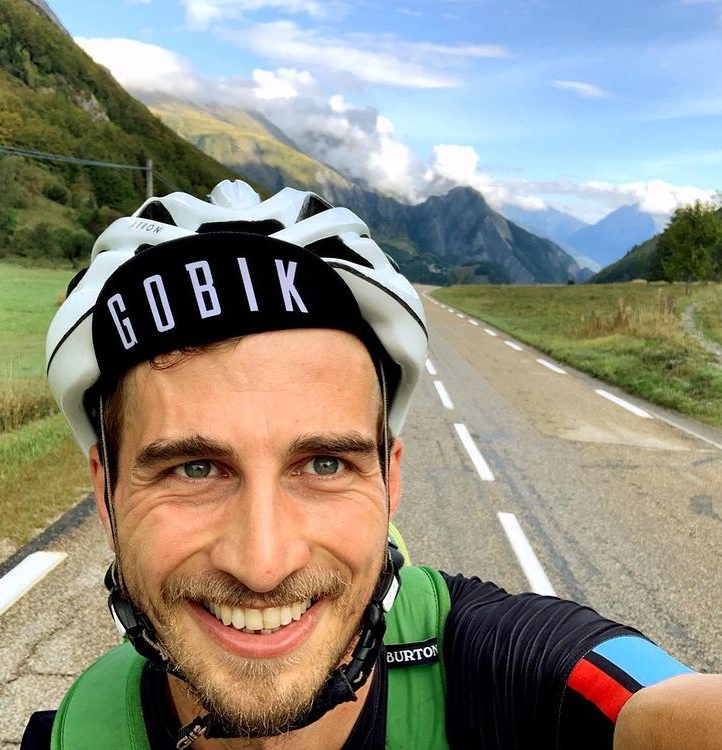 Hi, I'm Rutger and I love biking! When I'm on my bike, I feel completely free, relaxed and fresh, and it always puts a smile on my face. My favorite thing about my biking trips is the slow speed and silence. I feel time stopping completely while I am surrounded and completely immersed by the tranquil greatness of nature. From the buds and blossoms in spring, the greenest greens in summer and finally the fiery colors of the leaves in autumn. Biking through all kinds of landscapes throughout all kinds of seasons reminds me every single time of how appreciative I am of nature. Come join me on one of my bikepacking trips, and you'll instantly see, taste, feel exactly what I mean!
Other journeys you might like
Browse some travel plans crafted by our nomads to inspire you and give you an idea of what to expect when traveling with us. Keep in mind that each of them is 100% customizable to match your travel style and budget